Welcome
Welcome! We are part of the College of Arts and Sciences at Appalachian State University. Our faculty's expertise spans the disciplines of actuarial science, pure and applied mathematics, mathematics education, and statistics. Mathematical Sciences offices and classrooms are in Walker Hall at the west end of campus.
We offer undergraduate degrees in Actuarial Science and Mathematics. The mathematics program includes concentrations in business, computation, life sciences, physical sciences, secondary teaching, and statistics, as well as a general, self-designed concentration.
We also offer the Master of Arts Degree in Mathematics with concentrations in college teaching and secondary teaching.
The sharing of ideas and information across the mathematical disciplines makes our department a rich place to teach and learn. The success of our students in getting jobs reflects our efforts to provide our students with excellent training for today's job market, combined with a broad education for the future.
To learn more about the department, browse this site using the navigation links above, or contact one of us directly.
Congratulations to our May and August 2022 M.A. Graduates!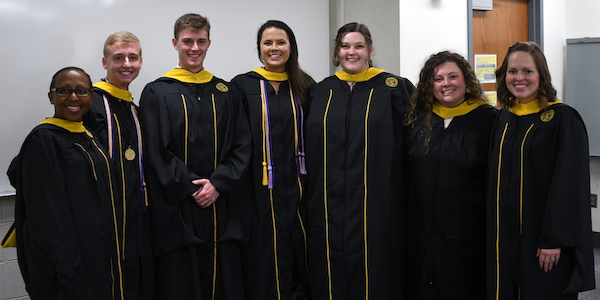 Pictured: Donna Thomas, Christian Payne, Thomas Keener, Lillian Mazaleski, Macie King, Sydney Poore, Jordan Justice.
Not pictured: Woody Madison, Mel Rhoney.
Mathematical Sciences News