Contact details for the Department
The Department of Mathematical Sciences remains dedicated to supporting our students. We are open for business, but the office suites in Walker Hall will remain closed to limit traffic in our narrow hallways.
If you need to contact...
Individual Faculty: Check the PEOPLE menu for emails and office phone numbers. If you call and there is no answer leave a phone message, since our phone system will send a voice mail message via email!
Someone about general department information: Call Astrid Sosa at 828-262-2369
Welcome
Welcome! We are part of the College of Arts and Sciences at Appalachian State University. Our faculty's expertise spans the disciplines of actuarial science, pure and applied mathematics, mathematics education, and statistics. Mathematical Sciences offices and classrooms are in Walker Hall at the west end of campus.
We offer undergraduate degrees in Actuarial Science and Mathematics. The mathematics program includes concentrations in business, computation, life sciences, physical sciences, secondary teaching, and statistics, as well as a general, self-designed concentration.
We also offer the Master of Arts Degree in Mathematics with concentrations in college teaching and secondary teaching.
The sharing of ideas and information across the mathematical disciplines makes our department a rich place to teach and learn. The success of our students in getting jobs reflects our efforts to provide our students with excellent training for today's job market, combined with a broad education for the future.
To learn more about the department, browse this site using the navigation links above, or contact one of us directly.
Congratulations to our May and August 2019 M.A. Graduates!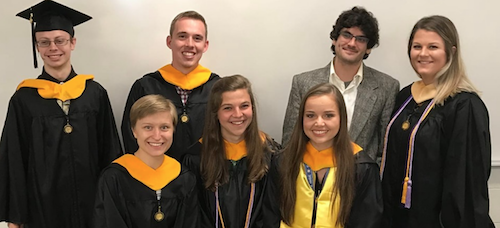 Pictured: Patrick Daye, Abbie Roberts, Peter Eller, Leah Hurt, Emily Yontz, Samuel Powell, Charlotte Cave (not pictured: Katelyn Benson, Richard Shedenhelm)
Mathematical Sciences News