MELT COVID-19 Changes for Summer 2020
Due to the currently unpredictable duration of the effects of the coronavirus on our society, we have decided to make dramatic and necessary changes to the structure of MELT Summer Institutes for 2020. In the past, all Summer Institutes were week-long and face-to-face, with a few Institutes adding limited synchronous online access. Additionally, for this summer, we included both week-long (3 CEUs) and short-week (1.7 CEUs) Institutes.
For Summer 2020, each MELT Institutes will:
1. Be ONLINE (primarily asynchronous with the possibility of some synchronous and livestream components). Participants will be able to access the Institutes online between June 22nd and July 17th. They will access, complete, and submit assignments online. They will have opportunities to communicate with the instructor, collaborate with other participants, share their work, and get feedback. Some instruction may be livestreamed and some activities and discussions may be synchronous via Zoom or some other online platform. Participants will have most of the same experiences as if they had taken the course face-to-face.
2. Span FOUR WEEKS (June 22 through July 17) instead of only one. This extended time will afford participants the opportunity to complete the associated learning activities at a more manageable pace associated with working from home. While most participants will not need this extended time, this schedule can help those who have additional familial or professional responsibilities during this period due to lingering effects from the virus.
3. Provide either 3 CEUs or 1.7 CEUs, depending of the extent of the Institute.
4. Qualify for the Buy-One-Get-One free tuition discount. Previously, MELT tuition was $300 for week-long Institutes with a BOGO, $200 for short-week Institutes with no BOGO option, and $300 and $200 respectively for online participation with no BOGO option.
The BOGO tuition discount is now applied to ALL institutes.
5. Allow any teacher to register for, and participant in, up to four concurrent Institutes over the four-week period, with tuition due for each selected Institute.
Mathematics Education Leadership Training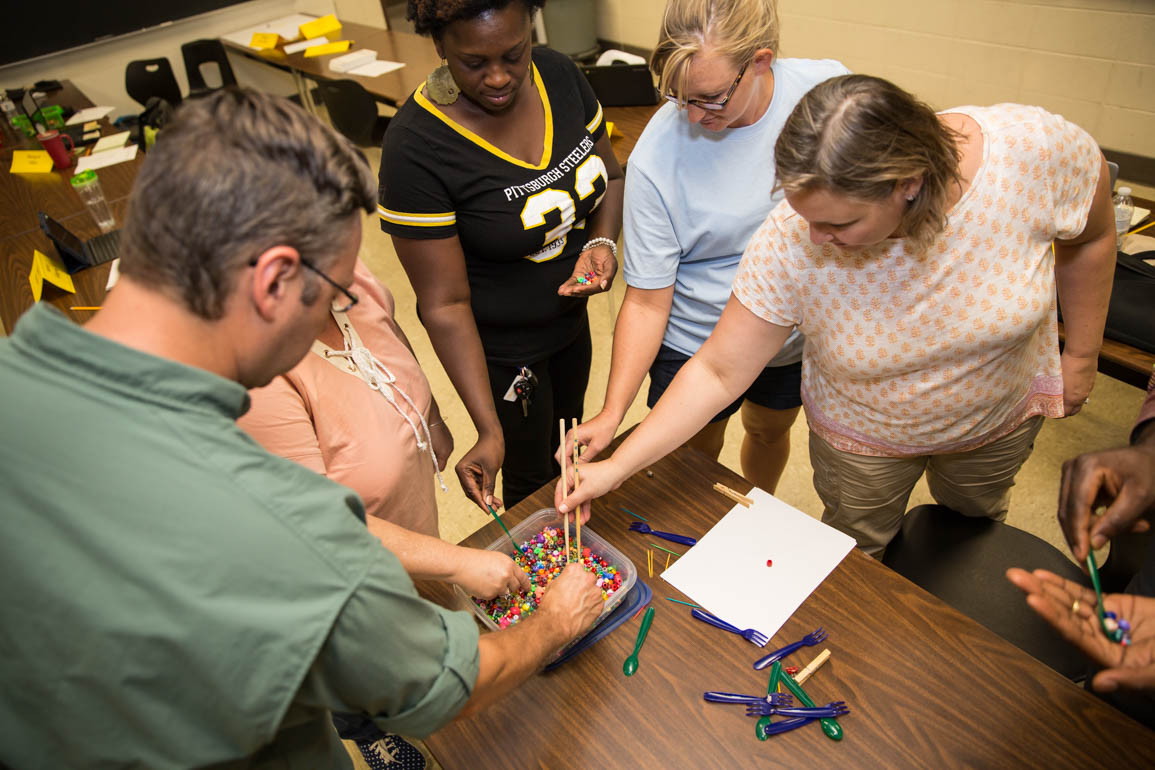 What is MELT
MELT Institutes are week-long, residential professional development training opportunities. MELT instructors are university faculty and master K-12 teachers with decades of experience both in classrooms and in curriculum development.
All MELT Institutes are held in Walker Hall on the campus of Appalachian State University, 121
Bodenheimer Dr., Boone, NC 28608. Week-long Institutes run 8:30-4:30 Monday-Thursday and 8:30-noon on Friday. Short-week Institutes run either 8:30-4:30 Monday-Tuesday and 8:30-noon on Wednesday (Week 2) or 8:30-4:30 Wednesday -Thursday and 8:30-noon on Friday (Week 3).
The MELT program negotiates discount rates with a number of Hotels in Boone. Participants who cannot commute to ASU can make use of these hotels or find other housing options. (MELT no longer uses dorm rooms as possible housing.)
Week-long Institutes can be taken for either 3 CEUs (most common) or 2 graduate credits. Short-week Institutes can be taken for either 1.7 CEUs (most common) or 1 graduate credit. Information regarding graduate credits are on following pages.
All MELT registrations are submitted through an online application form. The online registration system will open in January 2020. Registrations will be accepted first-come-first-served until Institutes are filled.
MELT tuitions are non-refundable. Cancellations received in writing will receive credit for the MELT program in the following year. ASU and the MELT program reserve the right to cancel Institutes no less than three weeks before the first day of the Institute. If Institutes are cancelled, affected registrants will receive 100% reimbursement for their MELT Registration fees or be allowed to attend an alternate Institute. Questions should be directed to Dr. Michael Bossé, MELT@appstate.edu; Office Phone: (828) 262-2862.
About MELT
The MELT Program was established in 1998 through a generous donation from the Cain Foundation.
The goal of the program is to provide support and professional development for K-12 mathematics teachers in North Carolina and other states. The program currently emphasizes weeklong Summer Institutes and some follow-up activities.
Summer Institutes, each of which is collaboratively developed and taught by highly qualified and experienced educators, provide teacher professional development on timely topics such as the preparation for meaningful implementation of the State Standards in Mathematics, the use of technology and other representational tools in the classroom, thoughtful and purposeful pedagogy, and analysis of teaching.
Support for MELT
The MELT program gratefully acknowledges:
Initial financial support by the Cain Foundation.
Historic support from:

Teachers Teaching with Technology (T3) program;
Burroughs Wellcome Fund;
Mathematics and Science Partnership (MSP) grant program; and
Leonard G. Herring Family Foundation.

Continuing support from the:

Appalachian State University Mathematics and Science Education Center and
Appalachian State University Department of Mathematical Sciences.
Registration Opens January 2020!
Register early – seating in all institutes is limited. Some institutes are full week and others are short weeks.
While all institutes are face-to-face, some include a synchronous online option. You may want to have a colleague attend with you or bring a team from your district.
The goal of the weeklong summer institutes is to help mathematics faculty improve their teaching effectiveness through investigation of mathematics content and pedagogy while examining the appropriate use of technology.
All Summer Institutes may be taken for CEUs or graduate credits in mathematics. (Tuition for graduate credits is set by the graduate school and payable directly to them.)
All offerings are contingent upon funding and enrollment.
For further questions, contact us at:
MELT office: 243 Walker Hall, Appalachian State University, Boone, NC, 28608
Dr. Michael Bossé Director: 828-262-2862; melt@appstate.edu