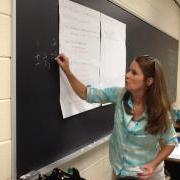 The MELT program gratefully acknowledges the initial financial support of the Cain Foundation. Additional support has come from the Teachers Teaching with Technology (T3) program, the Appalachian Mathematics and Science Education Center, the Appalachian Department of Mathematical Sciences, the Burroughs Wellcome Fund, the Mathematics and Science Partnership (MSP) grant program, and the Leonard G. Herring Family Foundation.
About MELT
The MELT Program was established in 1998 through a generous donation from the Cain Foundation. The goal of the program is to provide support and professional development for K-12 mathematics teachers in North Carolina and other states. The program currently emphasizes weeklong Summer Institutes and through-the-year follow-up activities. Summer Institutes, each of which is collaboratively developed and taught by highly qualified and experienced educators, provide teacher professional development on timely topics such as the preparation for meaningful implementation of the State Standards in Mathematics, the use of technology and other representational tools in the classroom, thoughtful and purposeful pedagogy, and analysis of teaching. Follow-up workshop activities include helping teachers implement problem-solving activities in their classrooms, collaboration among teachers and high school students in monthly contests, and the creation of exemplary classroom-based instructional and assessment activities.
Summer Institutes 2019
(June 24-June 28, July 8-12, July 15-19)
Registration Opens January 2019!
Since implementation of the State Standards is well underway, we are targeting ALL institutes toward preparing to teach toward that set of standards.
Register early – seating is limited. You may want to have a colleague attend with you or bring a team from your district.
The goal of the weeklong summer institutes is to help mathematics faculty improve their teaching effectiveness through investigation of mathematics content and pedagogy while examining the appropriate use of technology. All Summer Institutes may be taken for 3 CEU credits and some may be taken for 2 graduate credits in mathematics. (Tuition for graduate credits is set by the graduate school and payable directly to them.)
All offerings are contingent upon funding and enrollment.
For further questions, contact us at:
MELT office: 243 Walker Hall, Appalachian State University, Boone, NC, 28608
Dr. Michael Bossé Director: 828-262-2862; melt@appstate.edu