Activities & Outreach
Activities
Colloquium: Fridays at 3 PM in 103A Walker Hall or via ZOOM (varies!)
Colloquia are scheduled on Friday afternoons throughout the semester. The presentations allow students and faculty to engage in a broad range of topics of interest in mathematical sciences. [Schedule]
Student Organizations and Activities
The Department sponsors several clubs and other activities for students related to the mathematical sciences, including the Math Club, the Actuarial Science Club, and the Prospective Teachers of Mathematics Club as well as the Pi Mu Epsilon Honor Society. Students also participate in a variety of math-related local, regional and national contests. [More info]
Student-Faculty Tea: We are waiting to see how things go with COVID before beginning to have tea again. Watch your email!
Come and join us for tea, hot chocolate, and cookies or other goodies. Tea is from 2:30 to 4:00-ish each Wednesday afternoon in the third floor 'Elevator Lobby' of Walker Hall. Everyone is welcome!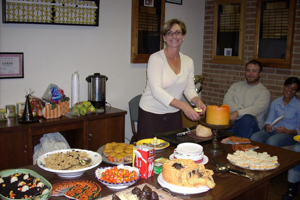 Student Scholars Day (SSD)
Each Spring, undergraduate and graduate students present their scholarly endeavors at our annual student scholars day, held on campus in Walker Hall each April. Students give a short talk or participate in the poster session. Group presentations and posters are welcomed.
Pi Day: On or near March 15
Each year the department participates in activities in order to encourage interest in mathematics (and pie!). Our most recent activities included "pie-ing" professors. [Photos]
STEM Transfer Day: Each Fall
Students from several community colleges are invited to come to campus and learn about Appalachian. Students interested in majoring in one of the STEM disciplines of Biology, Chemistry, Computer Science, Geology, Mathematics, or Physics attend a colloquium, tour the departments, meet with a transfer admissions specialist, and do some math!
K-12 and Community College Mathematics Organizations
NCCTM: Our faculty are committed to advancing the state of K-12 mathematics and statistics teaching in NC, and many are actively involved in the NC Council of Teachers of Mathematics. The 2019 State Mathematics Conference was held on November 7-8, 2019 in Greensboro.

NCMATYC: Our faculty are heavily engaged in working with community college faculty individually and through participation in the NC Mathematics Association of Two-year Colleges' Annual Meeting and Conference. The 2020 Conference was postponed indefinitely due to the transition to remote learning.
Outreach
Faculty in the Department of Mathematical Sciences engage in a strong program of outreach and engagement.
Activities for K-12 Students:
Faculty in the Department coordinate and/or assist with a variety of activities designed for K-12 students.
Activities For K-12 Teachers:
In addition to teaching classes, faculty in the Department participate in a number of professional development activities for mathematics teachers at all levels.
Math Education Leadership Training (MELT) Institutes: MELT provides support and professional development for K-12 mathematics teachers in North Carolina and other states.
Public School Partnership: In cooperation with the Reich College of Education Public School Partnership, mathematics faculty engage with teachers from the region in exploring mathematics teaching and learning, discussing collaborative efforts in curriculum and activities, and more.