Activities
Math walk colloquia present the benefits of creative learning
For most students, the world of academia lends an unbounded amount of creative possibilities yet it seems math is in an exception.
Sharareh Nikbakht, a senior lecturer in the Department of Mathematical Sciences, intends to change that for K-12 students with the concept of the Math Walk. Nikbakht spoke about this concept during "ASU Math Walk: Promoting STEM using creative activities for creative student learning" Friday at 3 p.m. in Walker Hall.
The event, hosted by Travis Weiland, an assistant professor in the Department of Mathematical Sciences, focused on a concept called a Math Walk, which takes learning outside the classroom.
A Math Walk is not an original concept, but Nikbakht wants to bring it to App's campus for students across the state. The Math Walk has students following a handbook compiled by Nikbakht of 14 sites mapped out on App's campus and 16 activities to complete as students explore the campus.
The activities range from calculating the angle of the stairs up to the SRC to identifying shapes in Sanford Mall, with varying difficulties according to grade level. The handbook used during the walk also allows for a brief period of rest to think about the activities as students eat lunch at Jimmy Smith Park. This gives a teacher the opportunity to take students on a day trip to either explore the campus and learn along the way or have a select number of questions to answer.
The handbook has additional information to add to the excitement of learning and to remind the students of the tactile nature of mathematical concepts like the origins of structures on campus, taught within the classroom, Nikbakht said.
The handbook is formatted as a PDF file so that it can be a communal document that others can add on to, Nikbakht said.
Nikbakht grew up with a passion for science, and she credits part of it to the 60's era of innovation she was raised in.
"Everybody wanted to be an astronaut and so did I, even with my motion sickness," Nikbakht said. "The love of math really hit me when I started my first job working in different laboratories and doing all the calculations."
Nikbakht said she empathizes with students who struggle with math because she thinks they lack the ability to make math real-world applicable.
Nikbakht is running a test trial for Math Walk with K-12 students from Wilkes County on Nov. 9. She hopes to bring more to students than answering equations for an assignment. She said she hopes to promote problem-solving, improve team building skills and ultimately stimulate interest in math.
Nikbakht concluded the event and said that developing these activities for students has impacted even her own thinking of the world around her. She has climbed structures, snuck through walls and even found a bathroom trash can mathematically appealing.
"You look at everything differently when you develop these activities," Nikbakht said.
Holly Peters Hirst, a professor in the Department of Mathematical Sciences, wanted to remind the graduate students that a Math Walk could benefit college students as well.
"Taking them outside and having them do something like this makes a nice activity, and it's not that hard. This is a way to make it real," Hirst said.
Travis Weiland, an assistant professor in the Department of Mathematical Sciences, remarked at the end of the event the potential for research opportunities for math educators who specialize in using creativity to teach STEM. One of the ways Weiland believes these researchers could approach this is to ask K-12 students to come up with their own questions in the classroom.
"There's a lot of rigor that goes into that because you end up doing, almost, more math to create the problem than do the problem," Weiland said. "You could analyze the types of problems the students come up with."
Nikbakht said she feels this concept is only in its early stages and wants all input possible for potential improvements. If you would like to hear more information on the concept or give input please email Nikbakht at nikbakhts@appstate.edu.
Story by Alexander Hubbel, A&E Reporter
ASU Math Walk
Math walks, or math trails, can be found all over the world. Math walks provide you with the opportunity to enjoy being outdoors and to exercise your brain as well as your body as you walk around.
Here at Appalachian State, our math walk contains questions for all age levels from K-12 to adult. You will want to have the following items for your math walk:
pencil & paper
measuring tool such as a ruler
a calculator (phone app)
Feel free to pick and choose which stops you visit and which questions you do based on the interests, ability levels, and the time you and/or your group wish to spend.
We hope you enjoy your visit!
Sherry Nikbahkt
Stephanie K. Moore
& Kory Illenye
Links to PDF files:
Colloquium: Fridays at 3 PM in 103A Walker Hall
Colloquia are scheduled on Friday afternoons throughout the semester. The presentations allow students and faculty to engage in a broad range of topics of interest in mathematical sciences. [Schedule]
Student Organizations and Activities
The Department sponsors several clubs and other activities for students related to the mathematical sciences, including the Math Club, the Actuarial Science Club, and the Prospective Teachers of Mathematics Club as well as the Pi Mu Epsilon Honor Society. Students also participate in a variety of math-related local, regional and national contests. [More info]
Student-Faculty Tea: Wednesdays at 2:30 PM in the 3rd Floor Lobby
Come and join us for tea, hot chocolate, and cookies or other goodies. Tea is from 2:30 to 4:00-ish each Wednesday afternoon in the third floor 'Elevator Lobby' of Walker Hall. Everyone is welcome!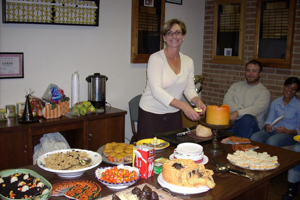 Student Scholars Day (SSD): TBA in April
Students are invited to present their scholarly endeavors at our annual student scholars day, held on campus in Walker Hall each April. Our first annual SSD was held on April 28, 2018. Eleven students gave talks, and fun was had by all! [2018 Presentation Schedule (pdf)]
Pi Day: On or near March 15
Each year the department participates in activities in order to encourage interest in mathematics (and pie!). Our most recent activities included "pie-ing" professors. [Photos]
STEM Transfer Day: November 9, 11 am to 4 pm
Students from several community colleges are invited to come to campus and learn about Appalachian. Students interested in majoring in one of the STEM disciplines of Biology, Chemistry, Computer Science, Geology, Mathematics, or Physics attend a colloquium, tour the departments, meet with a transfer admissions specialist, and do some math!
K-12 and Community College Mathematics
NCCTM: Our faculty are committed to advancing the state of K-12 mathematics and statistics teaching in NC, and many are actively involved in the NC Council of Teachers of Mathematics. The 2018 Annual State Math Conference will be held on November 1 and 2 at the Koury Convention Center in Greensboro.
NCMATYC: Our faculty are heavily engaged in working with community college faculty individually and through participation in the NC Mathematics Association of Two-year Colleges. The 2019 Annual Meeting of NCMATYC will be held on March 7 and 8 at Caldwell Community College in Hudson.
Outreach
Faculty in the Department of Mathematical Sciences engage in a strong program of outreach and engagement.
Activities for K-12 Students:
Faculty in the Department coordinate and/or assist with a variety of activities designed for K-12 students.
Activities For K-12 Teachers:
In addition to teaching classes, faculty in the Department participate in a number of professional development activities for mathematics teachers at all levels.
Math Education Leadership Training (MELT) Institutes: MELT provides support and professional development for K-12 mathematics teachers in North Carolina and other states.
Public School Partnership: In cooperation with the Reich College of Education Public School Partnership, mathematics faculty engage with teachers from the region in exploring mathematics teaching and learning, discussing collaborative efforts in curriculum and activities, and more.