17th Annual Celebration of Student Research and Creative Endeavors
Dawn Woodard, Meredith Branham, and Susanna Hogue presented a poster on work they are doing with Dr. Eric Marland on Carbon Emissions.
Kent Vashaw presented a poster on work he has done with Dr. Vicky Klima on voting theory and linear algebra.
Two groups of students directed by Dr. Bill Bauldry presented posters on decision analysis:

Ralph Chikhany, Riley Gallagher, Matthew Jobrak, Tessa McMullen, Amber Mellon, Luke Tunstall, Patrick Tracey, and Huy Tu looked at our program prioritization process and
Holly Cook, Kenneth Jones, Stan Lord, Brian Pham, Hugh Tillett, Katie Turner, Timothy Vu, and Tyrel Winebarger presented a model to evaluate candidates in a hiring process.
Smoky Mountain Undergraduate Conference on the History of Mathematics VII
Huy Tu, presented the poster "Creative Connections in Pascal's Triangle." Huy won 2nd place.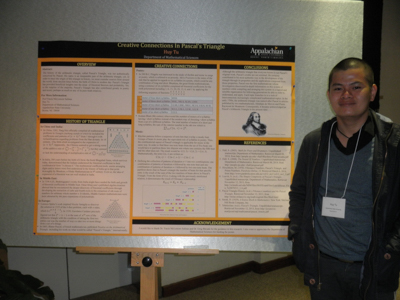 Congratulations to all!