November 15, 2014
For the second year, youth have flocked to Watauga High School to compete with robots as part of NC's FIRST Lego League (FLL) regional qualifying tournament. Seventeen teams brought out their robots to participate in a series of challenges. In addition, several high school robotics teams competed in an FTC scrimmage and three teams from FIRST's Junior FLL program showcased their projects. In the FLL competition, teams design, build, and program robots to complete missions on the game boards shown below, and compete for awards in the categories of sportsmanship, robot programming, and a research presentation based on this year's "World Class" theme. Seven of the top scoring teams will participate in the state event to be held in January. Students spent months preparing their robots for the big day, so the excitement in the air was palpable.
The regional event is made possible through the support of a number of organizations and individuals, including Watauga County Schools, Appalachian State University, NC A&T's College of Engineering, software company ERCS and other local and regional businesses and volunteers. Kim and Eric Marland (Mathematical Sciences) together with Tom Brown from Watauga High School led the event. Other volunteers from Appalachian State included graduate students Amanda Witt, Matthew Jobrack, Luke Tunstall, Kenny Jones, Tyrel Winebarger (Mathematical Sciences), undergraduate students Katie Esposito and Russell Nasrallah (Math and Environmental Science), and faculty Tracie Salinas, Joe Castonguay, and Genie Griffin (Mathematical Sciences), Martha Marking (Theatre and Dance), and Leah Sherman (Physics). Opening ceremony entertainment and National Anthem were provided by Appalachian's a cappella group Enharmonix.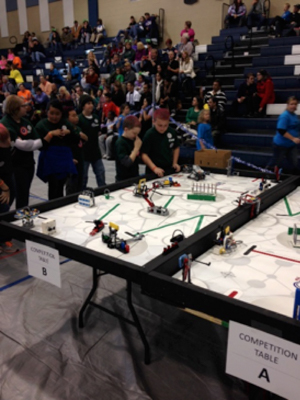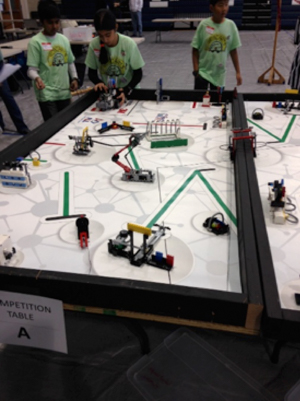 There were many winning teams; below are the winners of the Champion's Award.