Our congratulations to Dr. Nii Okine!
He recently passed the Society of Actuaries (SOA) predictive analytics exam. Passing the SOA predictive analytics exam completes his exam requirements for becoming an Associate of the Society of Actuaries, ASA.
The final requirement to obtain his ASA is the Actuarial Professionalism Course (APC), which is participation by invitation only. Dr. Okine has received his invitation!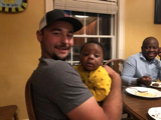 Image description: Joseph Shirley with Jesse Okine (4 mo.) and Dr. Nii Okine, celebrating Dr. Okine's achievement.